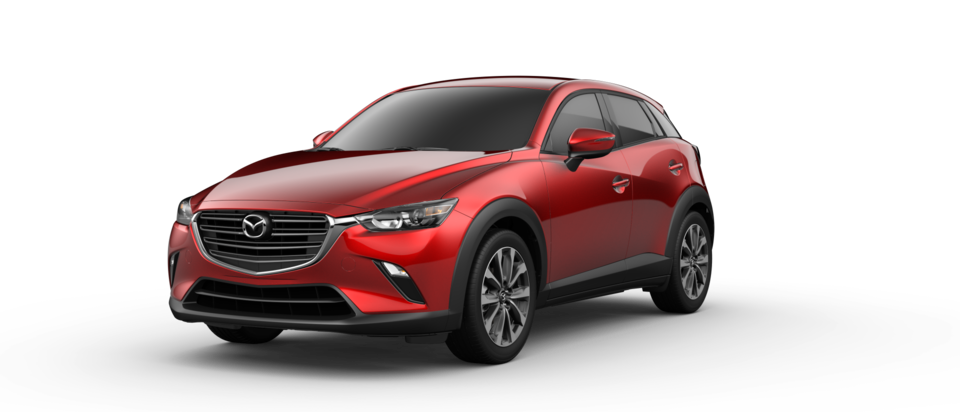 Explore the Mazda CX-3 at Classic Mazda
The Mazda CX-3 is uniquely designed to be one of the sleekest subcompact crossovers on the road today. You can't help but turn your head to watch it drive by, but why do that when it can be yours at Classic Mazda today.
Under the hood, the Mazda CX-3 is built with an emphasis on fuel economy. Its SKYACTIV-G 2.0-liter four-cylinder engine gets 148 horsepower and 146 pounds-foot of torque. Where it shines is in its 29-mpg city and 34-mpg highway gas mileage figures. With a fuel capacity of 12.7 gallons in the front-wheel-drive models, you'll have more than enough in the tank for a long weekend and then some.
The exterior of the Mazda CX-3 is inspired by the simple yet elegant principles of Japanese Kodo design. That simplicity translates into its interior design as well thanks to the available soft Lux Suede trim and a use of space that strips away the busy and unnecessary features that might otherwise bog you down. It's a space that will make you feel relaxed even over the longest of road trips.
Trim levels The Mazda CX-3 comes in three different trim levels, beginning with the Sport. At the lowest of the three MSRPs the Sport's main attractions are its 16-inch alloy wheels and advanced Mazda Connect Infotainment system. The next trim level up is the Touring, and owners can expect a jump in wheel size at 18-inches as well as the ability to used Mazda's advanced keyless entry system. The highest trim level on the Mazda CX-3 is the Grand Touring which comes with everything that the previous trim levels do, but adds leather trimmed seats and Mazda's intuitive navigation system.
Here at Classic Mazda, we want each customer to feel like they got the best deal possible. We offer competitive loan rates and finance options thanks to our connections with banks and lenders, but if you're not looking to own, you can lease any of our Mazda CX-3 models at a lower monthly payment. We will work with you no matter your budget to find something that works, so don't hesitate to reach out to our expert finance team with any questions you might have.
We encourage all our customers to come in and see what the Mazda CX-3 is all about. You can schedule a test drive at any time, and with our friendly and courteous staff, we know we can deliver a one-of-a-kind customer service experience. Whenever you're ready, we look forward to serving you.